Main Page | Lewis Home Page

Peter | Abel | Abel 2
Peter Lewis
B: ???
D: Before 1801
Spartanburg, SC

Married ???
Children
Name
Born
Died
Married

George


???
ca 1818
Spartanburg Co, SC
Mary _____
B: ???
D: ???
Served in the militia in 1780 and 1781 under Cpt Thomas Price.
During the siege of Augusta he caught smallpox and lost his eyesight.
A.A. 4545 and R210.

Isaac


???
???
???
Served in the militia and supplied provisions during 1780, 1781 and 1782.
A.A. 4547.

Ephraim


?ca 1747 PA
???
???
Served in the militia under Col Roebuck before and after the fall of Charleston.
A.A. 4543 and X3589.

Abel


???
After 1818
Sarah Baker
B: ???
D: ???
Married 6 Jun 1773

Isiah


???
20 Oct 1832
Spartanburg Co SC
Mary Brashier
B: 1755
D: 20 Jan 1840
State of South Carolina To Isaiah Lewis 1780 To 477 days service as a private on horse back $68.2.10 1/4 in Capt. Thomas Price's Company commencing June 1, 1780 and ending September 20, 1781 both days. Ninety Six District) Before me James Jordan, Esq. personally appeared Isaiah Lewis who being duly sworn saith the above account as it stands states is just and true. /s/ Isaiah Lewis Sworn before me this 29th day of July 1784 James Jordan JP I do certify that Isaiah Lewis did the above charged duty in Capt. thomas Price's company in the time above specified and that his account as it stands stated is just and true. Certified this 29th day of July 1784. George Lewis, Capt. SC File A.A. 4547 1/2.
Mary (Polly)
???
???
_____ Boley
Margaret (Peggy)
???
???
_____ Ellison
? = dates of birth are questionable or unknown.
Mary (Polly) may have been a daughter-in-law instead of daughter.
I know very little about Peter Lewis and nothing about his wife, parents or where he came from. The first record that I belive can be assigned to him is Isaac Pennington's will in 1760 in South Carolina. The will was written in what was then Berekely Co South Carolina. At that time Berekely Co ran from Charleston to the upstate of South Carolina. Isaac Pennington actually lived closer to the Spartanburg area than Charleston. He was on the Enoree River and Indian Creek, just below Whitmire today. This would be a little south of where Peter Lewis had his mill in 1767. The will says "Isaac Pennington (Seal) Witnesses: Proved before John Pearson by virtue of a Peter Lewis Dedimus 17 Sept 1760". Dedimus means "...a writ to commission one who is not a judge to do some act in place of a judge". My guess is he examined the witnesses to the will. An interesting point about Isaac Pennington is he had a daughter named Charity Pennington who married Charles King. Some say Abel Lewis, son of Peter, had a wife named Charity. I've never found anything that would connect Isaac Pennington to Peter Lewis although the Charleston area had a large Lewis family as early as 1670's. Also, David and Benjamin Lewis are found on Indian Creek in 1754 and 1766. David is later on Lawson's Fork Creek just above Peter Lewis's mill. Benjamin Lewis is listed in the 1779 'Census' listing for Ninety Six District South Carolina. Some researchers believe Peter Lewis is from the same family as David Lewis. I suppose it's possible when you consider that all the children of David Lewis Sr aren't know, but I've never seen anything that would link Peter Lewis to this family.

"Peter Lewis, 100 acres Mecklenburgh on both sides of Lawsons fork of Packolett above Jones road. Beginning at a post oak on the N side of said fork then South 128 poles to a fence thence W 128 poles to a pine thence N 128 poles to a post oak and thence East 128 poles Beginning. Date 26 October 1767."
File 2231; Grant 386; Book 23, pg 153, North Carolina Land Grants.

Note: This deed was recorded in North Carolina even though the land was in today's South Carolina. What happened was the 1735 survey between North and South Carolina was found to be incorrect and was resurveyed in 1772. At the time David recorded this deed the boundary cut across Lawson Fork, which put it in North Carolina. The 1772 survey moved the North Carolina line north to it's present day boundary.

Lawson Fork, from it's confluence with the Pacolet River, flows 29 miles northwest to almost the Blue Ridge Mountains. At the time of Peter Lewis it would have had a number of small mills that ground corn for meal. His mill was located about 4 miles west of the Shoally Creek branch. See map below. The map shows two Lewis Mills. One belonged to David Lewis and the other to Peter Lewis. I believe the lower one is Peter's mill because David Lewis's home is listed just north of the upper mill.


Location of Peter Lewis's Mill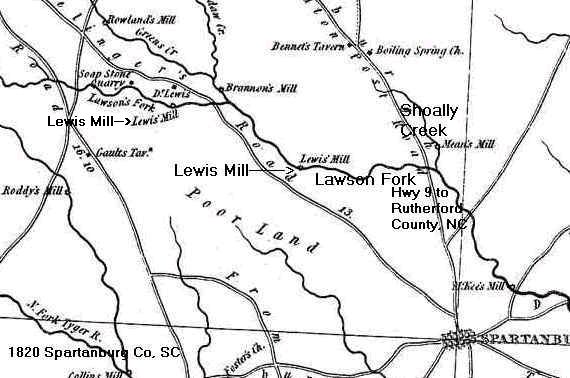 Double click on image to enlarge - one click to reduce.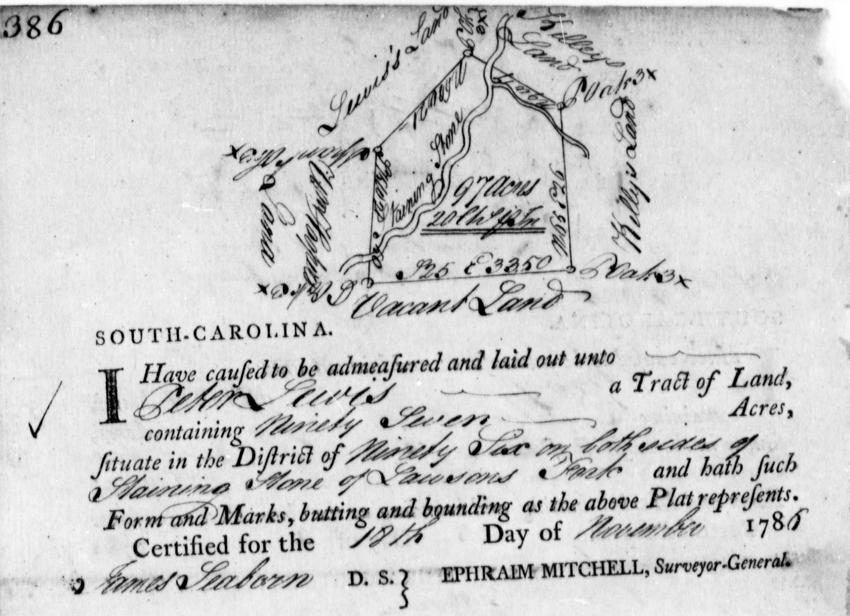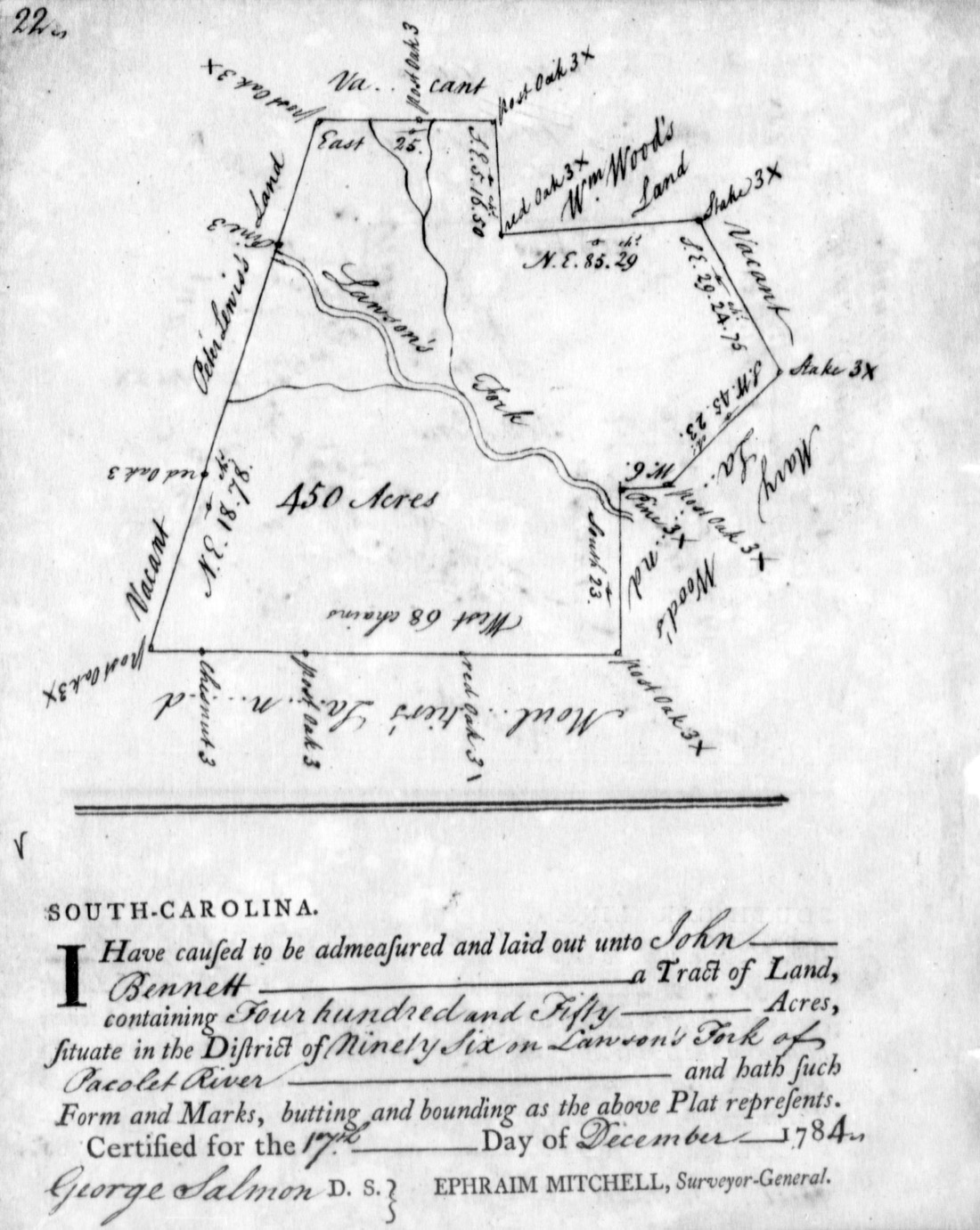 This land would have been located in today's Spartanburg County, South Carolina and it appears Peter Lewis lived on this land the remainder of his life. During the Revolutionary War Peter Lewis served 467 days during 1780 and 1781. These documents may be found in the South Carolina Archives under AA4553 and O15. Below is a copy of the South Carolina payment voucher.

Peter Lewis Revolutionary War Documents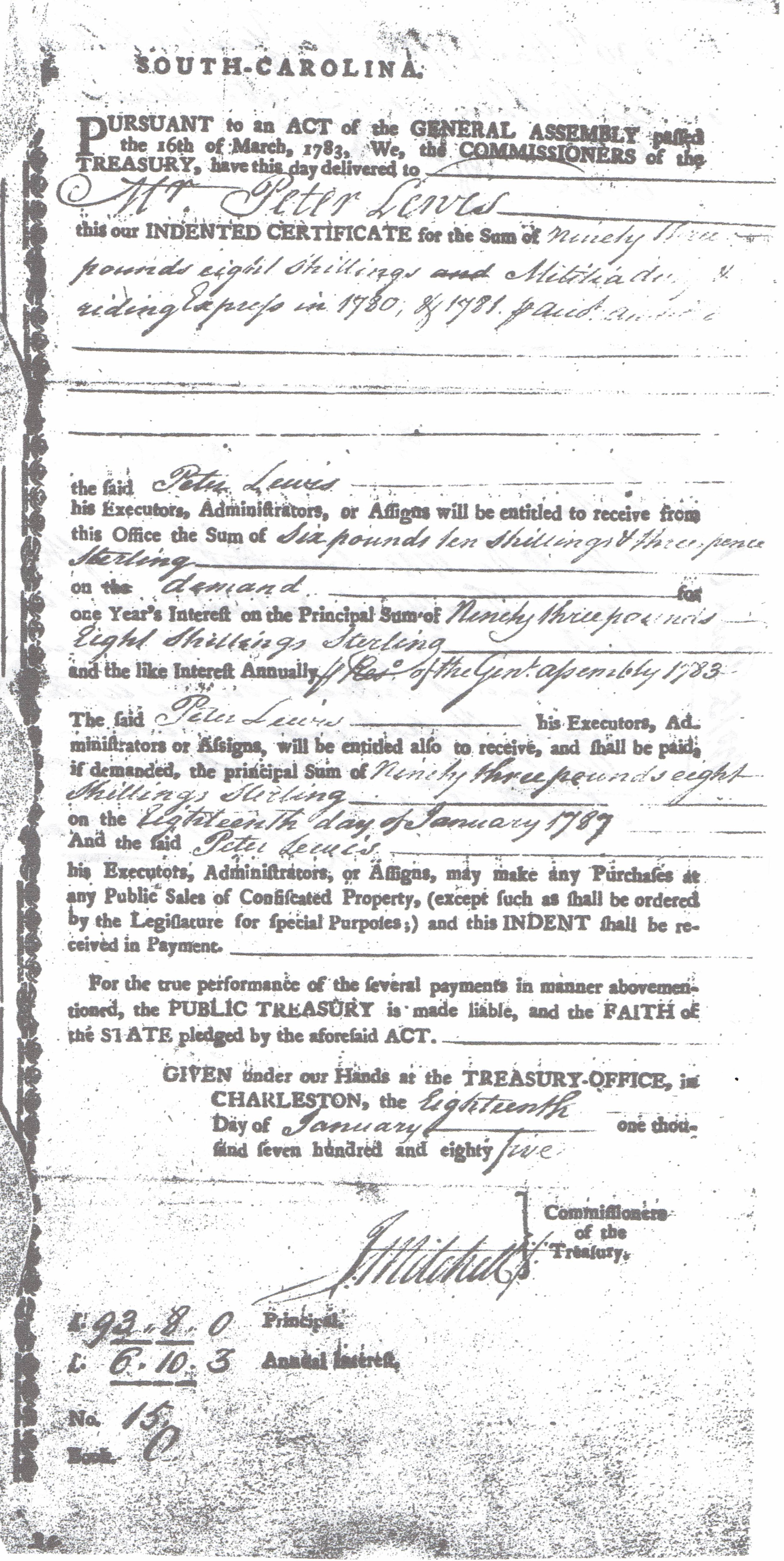 Double click on image to enlarge - one click to reduce.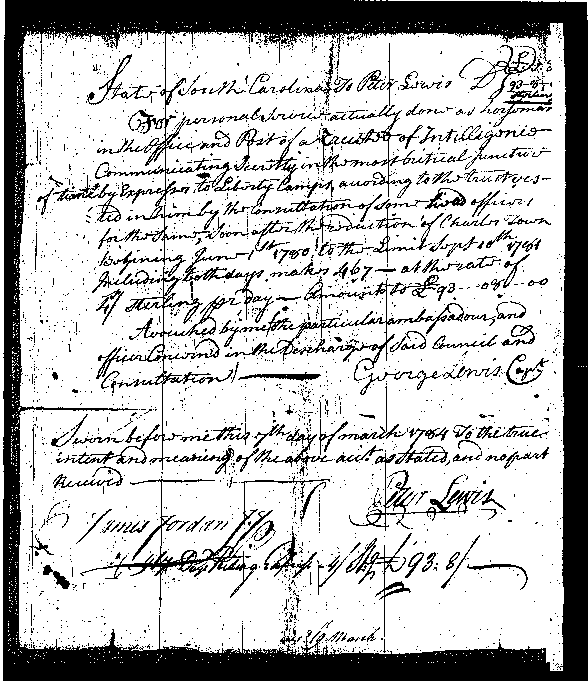 State of South Carolina to Peter Lewis
For personal service actually done as horseman
in the Office and Post of a Trustee of Intilligence
communicating _______ in the most critical juncture
of time by Express to Liberty Camps, according to ___ _____
in him by the sonsultation of some (? Five) officers
for the _____, soon after the ________ of Charles Town
beginning June 1st 1780 to the limit Sept 10th 1781
including both days makes 467 -- at the rate of
4P sterling per day -- amounts to L93--08--00.
Avouched by me the particular ambassadour, and
officer concerned in the discharge of said council and
consultation. George Lewis Capt

Sworn before me this 7th day of March 1784 to the true
intent and meaning of the above acct. as stated and no part
received. Peter Lewis
James Jordan J.J.P.
The 1790 Census of Spartanburg District, South Carolina has Peter Lewis listed as:

Peter Lewis: 2 males under 16; 2 males over 16; 2 females.

By this deed we know Peter Lewis is dead by the end of 1800:

"Jan 2, 1801 Abel Lewis (Rutherford Co, NC) schoolmaster, Isaiah Lewis (Greenville, Co (SC)), Ephraim Lewis, Peggy Lewis, Polley Lewis, widow (Spartan Dist) to George Lewis (Spartan Dist) for a Spanish milled dollar sold 50 ac; includes Shoals & Grist Mill except a road square which includes graves of "our" father and mother on S side of "the Mill"; E half of 100 acre grant Oct 6, 1767 by Gov William Tryon (NC) to Peter Lewis. Witness: Abel A. Lewis, Peter Lewis, & Polley Beaver. Signed: Ab Lewis, Isaiah Lewis & Polly Boly."
Spartanburg Co, South Carolina Deed Book G, pg 207-209.

During the colonial days, people used coins from all over the world. The most commonly used coin was the Spanish milled dollar. When our nation adopted an official currency, the Spanish Milled Dollar was chosen, and it later became the model for American silver dollars. The Spanish milled dollars were easily cut apart into equal "bits" of 8 pieces. One "bit" would be equal to 1/8 of a dollar, and 2 bits would equal 2/8 (or 1/4 - a quarter of a dollar). So, it is easy to see why the coins were called "pieces of eight", and "2 bits" was commonly used to refer to 25 cents.